Plano TX Sprinkler Repair

Full service irrigation contractors serving Plano Texas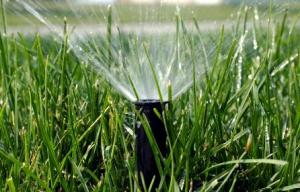 If you're looking for a dependable, affordable, and locally owned company to turn to for sprinkler repair in Plano, TX, your search is over. Our team offers hassle-free sprinkler repairs right when you need them, but that's not all we offer. We're also happy to cover sprinkler system design and installation services, commercial sprinkler services, sod installation, outdoor LED lighting, and much more. Call now and let's get started!
Why Call Us for your Sprinkler Repair Needs?
We appreciate your time. We don't make promises we can't keep, including appointment times.
We have the experience to handle a variety of systems. Our technicians have worked on controllers by Rain Bird, pop up heads by Hunter, drip lines by Netafim, and much more.
We're fully equipped for repair work. While the competition is out scrambling to find someone who has that special part on a Sunday, we're grabbing one off the truck.
We know watering restrictions 100%. You won't have to worry about running into trouble with the city because your sprinklers were set up to use too much water. Our systems will keep your grass green and your home out of trouble.
We Cover Irrigation System Optimization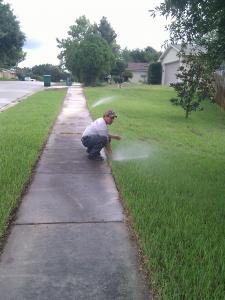 Watering restrictions in Plano can make it difficult to keep your lawn looking rush. Our team members know them inside and out, so your sprinkler system will never get you into trouble.
But we also think it's just important that we can make your lawn look its best without causing problems. By repositioning your existing sprinkler heads, replacing your less efficient sprinkler heads with low-flow models like the Hunter MP rotator head, and disabling zones in favor of drip irrigation when it makes sesnse, we can get your lawn into tip top shape without risking a costly penalty.
Our Plano TX Irrigation Contractors Know the Equipment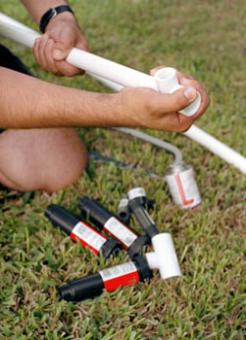 You might think a sprinkler is a sprinkler is a sprinkler, but some sprinkler heads will start causing problems after a couple of years while others can go on for decades without trouble.
Fortunately, our Plano sprinkler repair and installation team has collectively worked with just about every brand, class, model, and configuration of equipment, so we know how to put together a system that will work exactly as advertised. It's just one more way that we go out of the way to deliver excellent service to you.
Our Customers Are Raving
There are some things that you just shouldn't do yourself. I found that out the hard way. After I tried to fix my sprinkler system myself I had parts all over. I called in the pros and they had it put back together in a few hours and it hasn't had a problem since.~ John D. ~
So you want a lawn that makes the neighbors jealous - these are the guys. My yard went from half dead to top of the world in just a couple weeks. They even helped me pick out some stunning plants for my planting beds.~ Mary Jane J. ~
Call Today for Quick Sprinkler Repair in Plano TX!